The pictures below can assist you in identiftying your Illinois watch. For complete information on identifying wristwatch models and background information on each, please obtain a copy of Fred Friedberg's NEW BOOK, Sequel to, THE ILLINOIS WATCH: THE LIFE AND TIMES OF A GREAT AMERICAN WATCH COMPANY. NEW LIMITED EDITION SIGNED Books may be PRE-ORDERED from Fred at http://www.Illinoiswatches.com.
and check out his Facebook Pages:
https://www.facebook.com/Vintage-Deco-I ... 540961765/
https://www.facebook.com/fredric.friedberg
This Photo thread is a work in progress. I add NEW photos weekly. Alternately, if you have additional questions about your new found watch, JOIN THE FORUM AND ASK US ABOUT IT, you will get more information from the many Illinois collectors here.
This thread is locked so any discussion or questions should be posted in the regular Illinois Watch forum.
Any model names that are in blue text are links back to model specific threads with much greater detail.
If your example has a model number in the case back, it may save time to look for model names here before scrolling through the entire photo thread.
Models by Case Number
5th Avenue/New Yorker (1929) 14k GF, 6/0, 17j Grade 507, Model No. 162, Wadsworth, called Manhattan with a bracelet.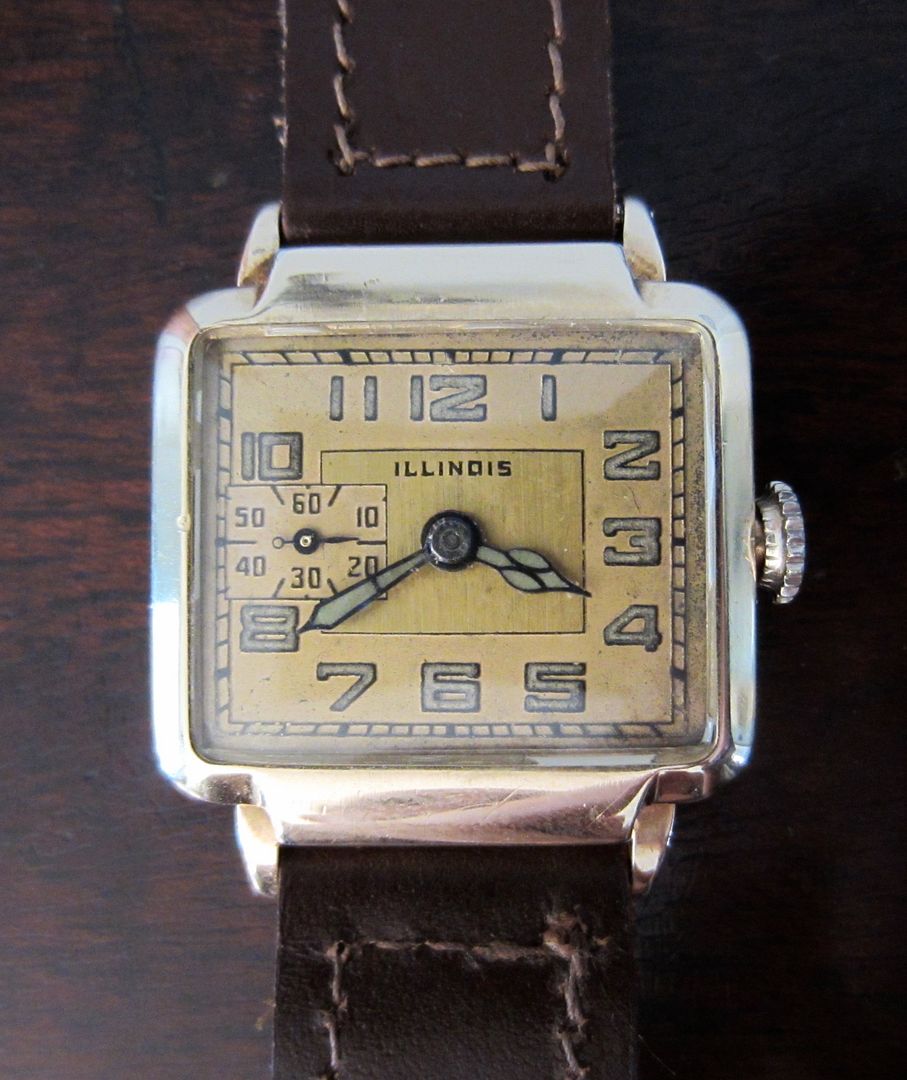 21J Motor Barrel Movement inside of a New Yorker
Enamel New Yorker also Model No. 162 (extremely rare)
Ace (1920) 3/0, Star WCC, also known as Wayne and Maxine
Admiral Benson (Gun Metal Finish)
Admiral Benson (Sterling)
Admiral Series-Swivel Lug (special case by Wadsworth very rare)
Admiral Evans (1920) Sterling, 3/0 11j, 17j, Fahys, Solidarity, Elgin and Illinois Watch Case co.
Admiral Evans Off-Center Crown
Akron (1931) (formerly Aluminum Prototype, Blackhawk)
Andover (1932) 12/0 Model No. 215
Ardsley (1931) 14k gold filled, 12/0 Cal 207, Model No. 218, Wadsworth
Arlington (1932) 6/0 Model No. 618, also known as Hawthorne
Atlantic (1926) 3/0
Atlantic "Masterbilt" Dial/Atlantic "Captain" Dial
Atlantic Enamel (1926) 3/0[/url]
Atlantic Plus/Large
Bank Timer (Mosler Safe Co. Hamilton, Ohio)


Baronet (1930) 6/0 Models No. 220 & 625
Barrel (1926) 6/0, also called Whippet and Tonneau
Beau
, 16mm strap
[
Beau Brummel (1928)
14k GF, 6/0, Special Model C, 17 jewels, Fahys, 16mm strap
Beau Royale (1929)
14k GF, 6/0, Special Model C, 21 jewels, Fahys, 16mm strap
Beau Geste (1931)
6/0, Model No. 212, 17 jewels, Keystone, 16mm strap
Beau Monde (1931)
6/0, Model No. 212, 21 jewels, Keystone, 16mm strap
Rare Beau Braille with hinged Bezel
Beau Viking (1929)
14k GF, Special Model C, 6/0, Fahys, 16mm strap
Biltmore (1931)
14k GF, 6/0 Cal. 605 15J, Model No. 616, Keystone -Also called Commodore. With a bracelet, is called Bostonian
Biltmore (1930) 14K gold filled, 18/0 Cal 807A, Model No. 161, Wadsworth, 16mm strap
Blackhawk (1931) 3/0
Blackhawk (Aluminum Prototype)
Blackstone (1930)[/url] 14k gold filled, 6/0, Model No. 219, Wadsworth
Bostonian (1931)
14k GF, 6/0 Cal. 605 15J, Model No. 616, Keystone -same as a Commodore and Biltmore (1931) but Bostonian has a bracelet
Bryce (1923) 6/0 - Tank w/o sub-seconds
Burlington
Burlington Special
Canby (1923)
14K solid gold, 14K gold filled, Sterling, 6/0 15j, Wadsworth, Philadelphia WCC, Star WCC, 16mm strap, also called Rectangular
Rare Diamond Bezel
Rare Pinstripe Dial
Rare Black Dial
Caprice
Cavalier (1930) 14k gold filled, Cal. 607, 6/0, Model No. 209, Fahys
Chatham (1934) 10k gold filled, 6/0, Model No. 652, Keystone


Chesterfield (1929) 12/0, Model No. 196
, Wadsworth


Chesterfield Stepped Bezel (1929) 12/0, Model No. 196
, Wadsworth
Chevalier (1928) 3/0 & 6/0
Chieftain (1929)
6/0, Special Model No. 163, 14k gold filled, Fahys, 16mm
Rare Custom Dial
Commodore
14k GF, 6/0 Cal. 605 15J, Model No. 616, Keystone -is a Biltmore (1931) or Bostonian when fitted with a bracelet
"Conneric" (Left)
Consul (1929)
14k solid gold (white, yellow, green, 2-tone), 6/0 17j, 19jor 21j, Special Model 152, Solidarity
Cushion (1926) 6/0
, Scepter
Cushion (Special Meritime Dial)
Derby (1931) 10k gold filled, 6/0, Model No. 617, Wadsworth, Solidarity (extraordinarily rare), also called Pimlico
Cut Bezel (Cushion is hardest to find)
Decagon (on Kitchner Strap)
Ensign (1929) 14k gold filled, 6/0, Special Model B -called Kingston with sub@6, Fahys, 16mm strap
Finalist (1929) 12/0, Model No. 196, Wadsworth
Finalist Deco (1930) 12/0, Model No. 196, Wadsworth
The Rarest of them all: YG Finalist Deco (Solid Gold)
Frontenac (1930)
14k gold filled, 12/0 Cal. 207, 17j Wadsworth, Model No. 202 -With integrated bracelet. Similar case to Westchester (lugs and bracelet) and Trophy (strap)
Futura (1929) 14k GF, 12/0 Cal 207, Model No. 197
, Keystone, 16mm lugs