The Helzberg box
Some months ago, my 76 years old father moved to my neighbourhood. I helped him a little bit when has renovating his new home. One task was to get rid off all the belongings of the former owners (some tons of old stuff to be brought to the junk yard). Before we removed all the old "things" we of course looked for something of value or at least of interest. The only thing I found was an old shabby watch box. I took it, forgot it for a while then examined it more closely.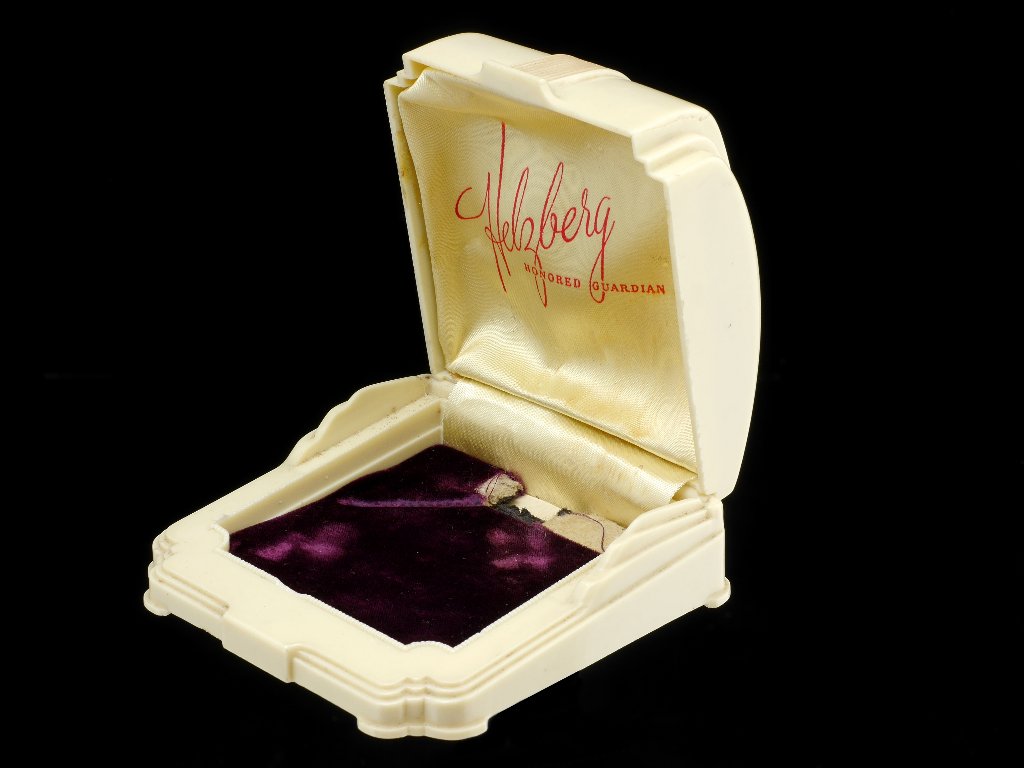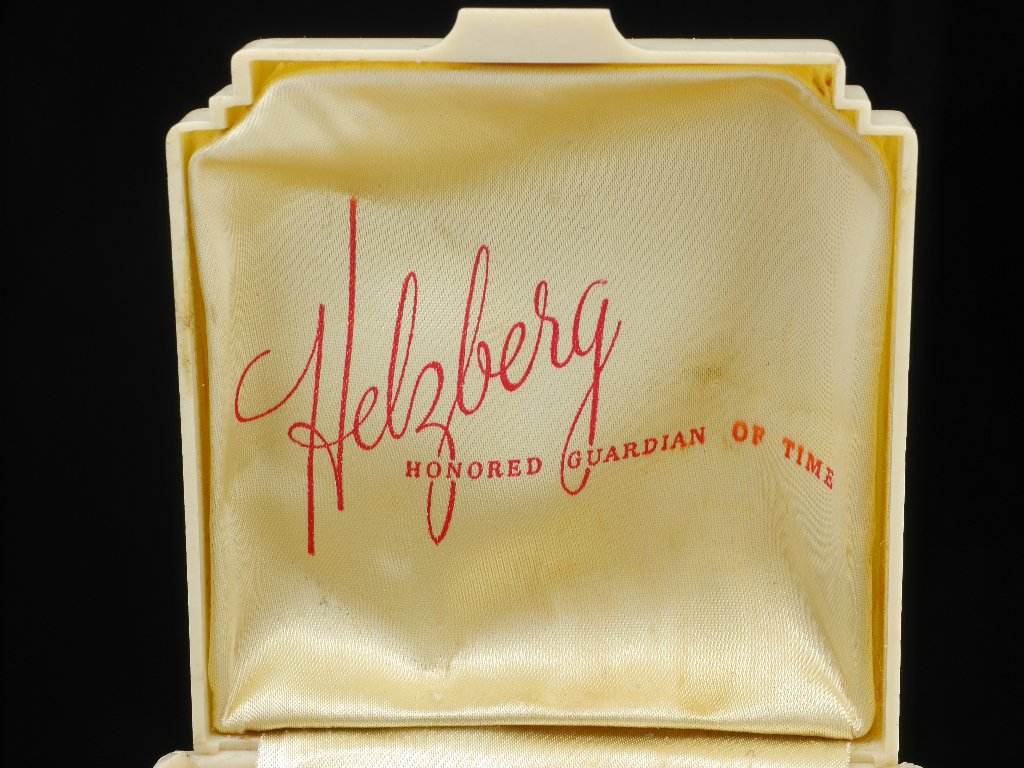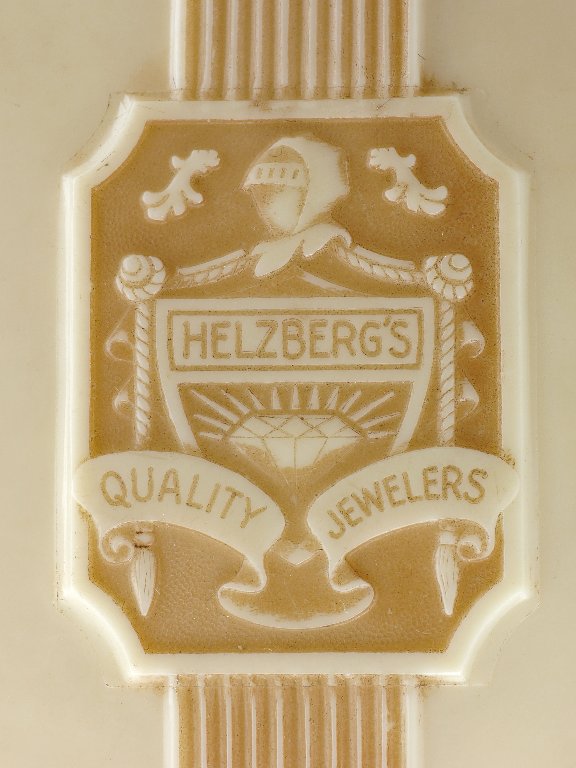 What a surprise! The box is from Helzberg's Diamond Shops, Kansas City, Missouri, a company which still is in business (nowadays: Helzberg Diamonds). The surprising thing: Helzberg's (HQ was located in the 50s in Kansas City, MO) had stores in Iowa, Missouri and Kansas – but NOT in Germany! And the former owners of the house were not living wealthy and probably never made it to the US of A. So: how came the box (and probably the watch, what isn't there) from Missouri to Germany?
Anyway: I like puzzles and I made my homework. Now I know a lot more about Helzberg and the watches they were selling in the 50s and about the maker (Winton, New York, NY) of the watches branded "Helzberg"….
Here's Helzberg's history:
https://www.helzberg.com/category/about ... history.do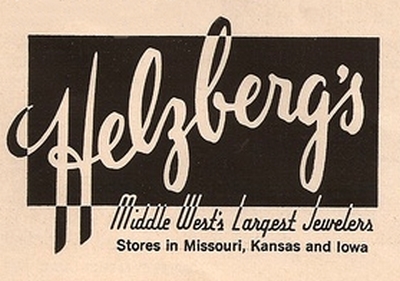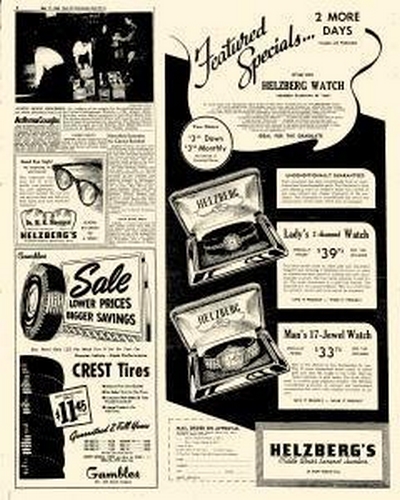 A Helzberg Time-o-matic
And here's a watch I bought immediately after my search on Helzberg: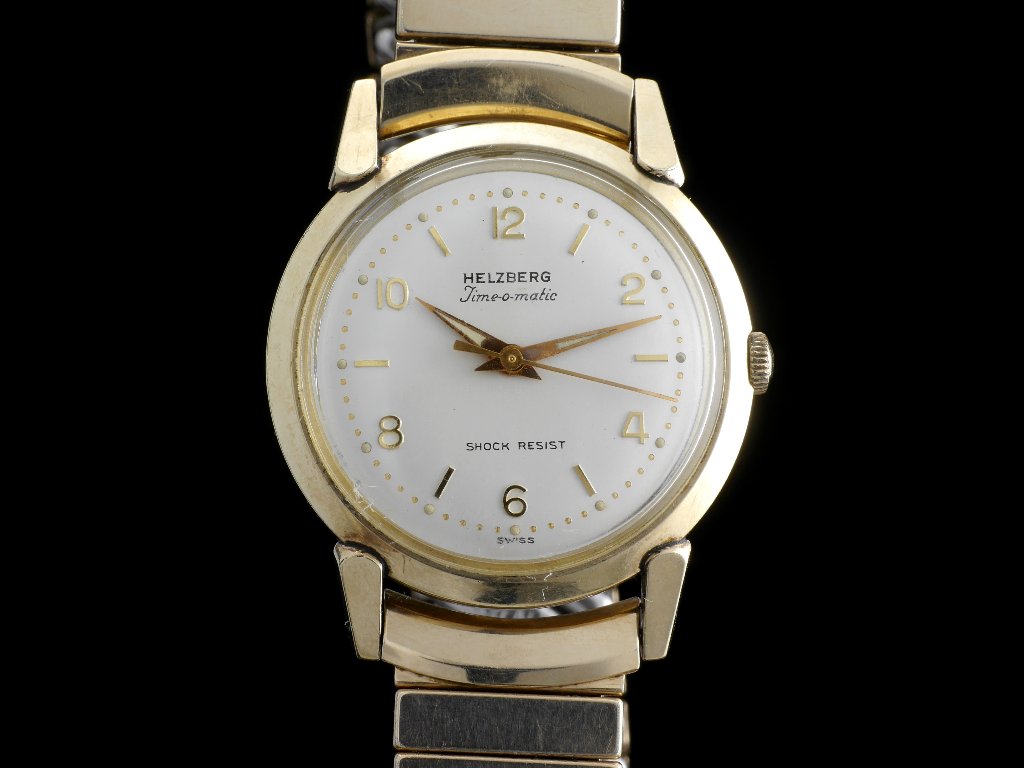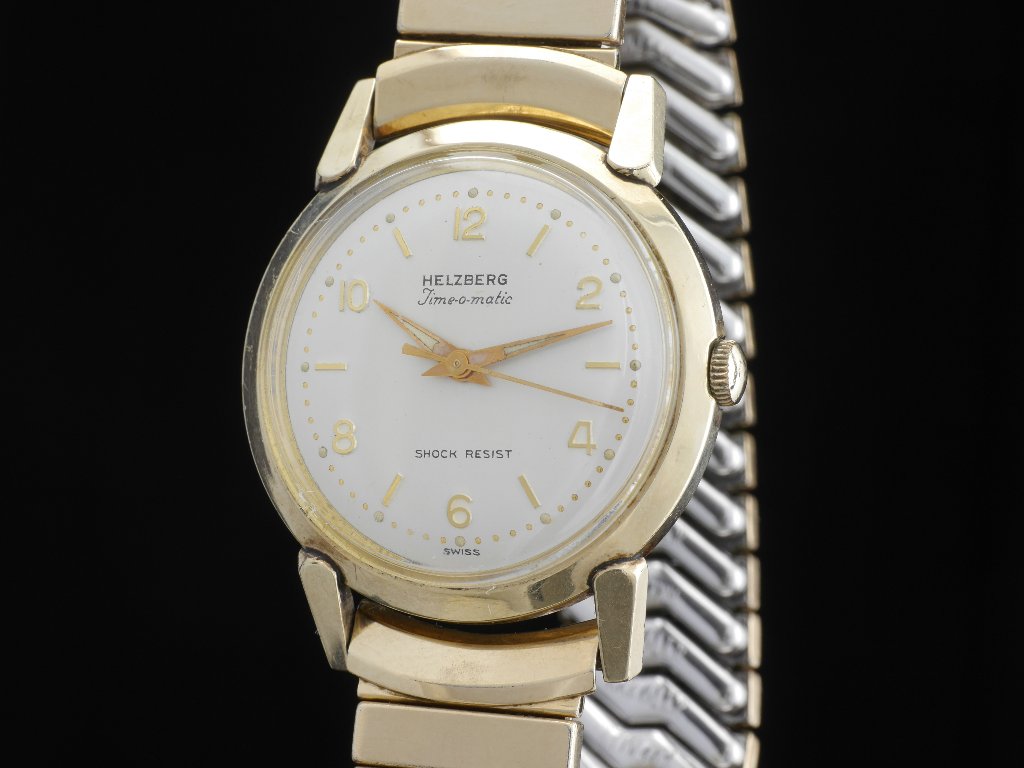 Well, nothing spectacular, but not bad anyway. I guess, the $25 "buy it now" option was OK.
When I bought/received it, it came with a Kreisler bracelet, what could be the original bracelet.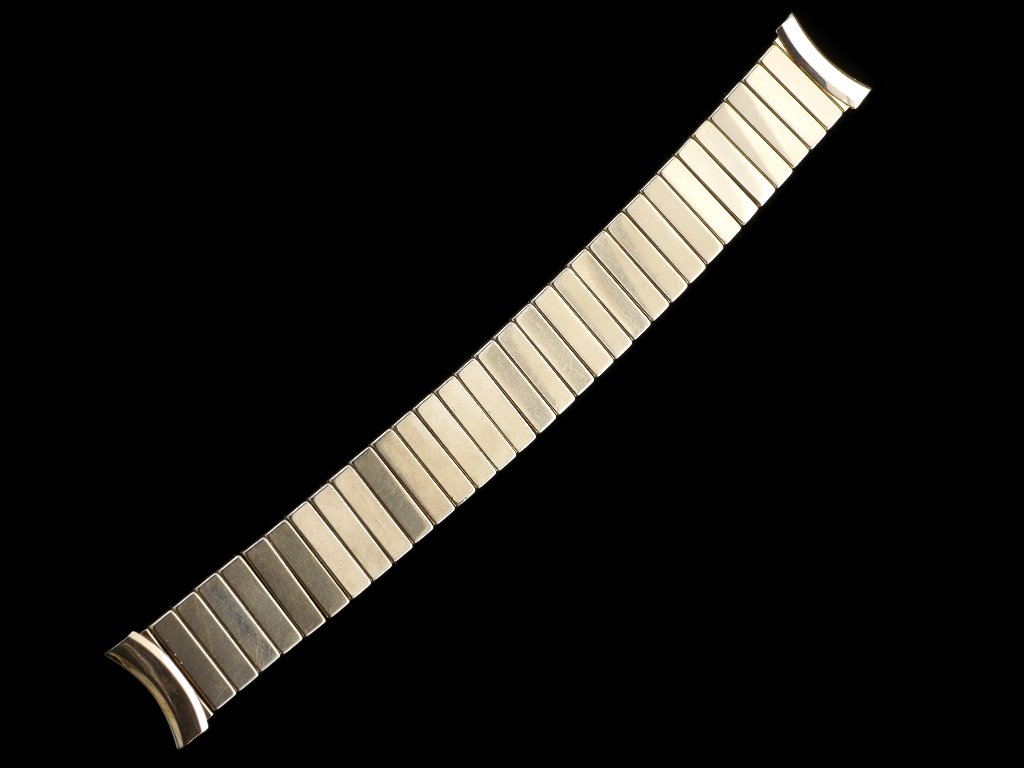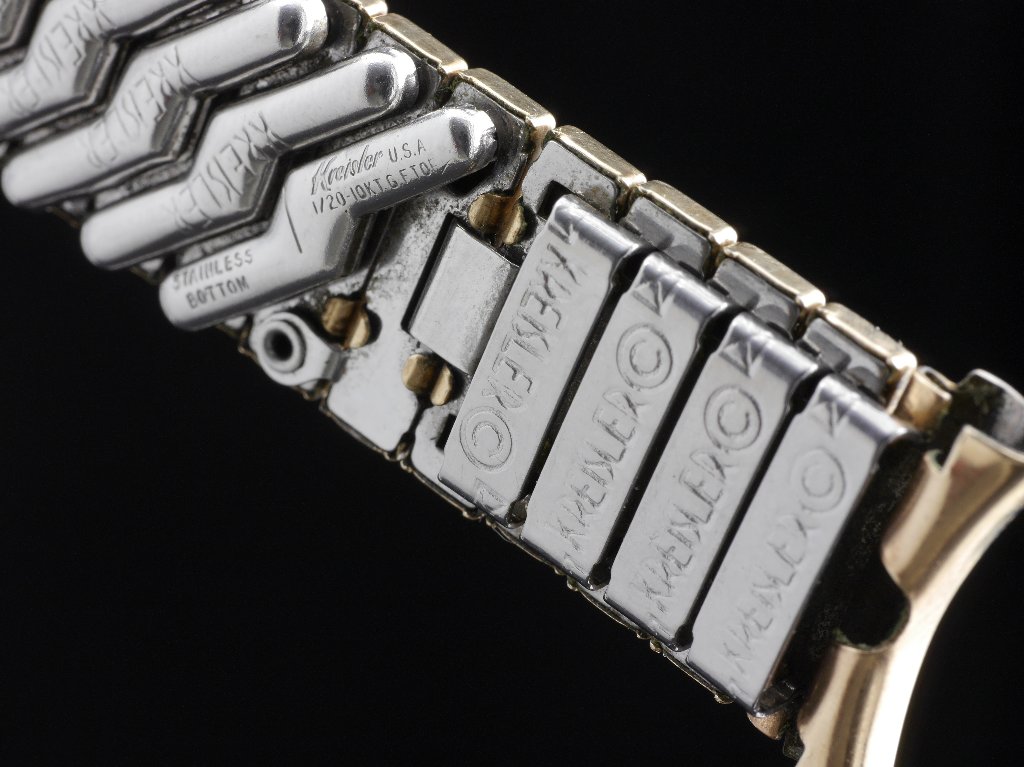 I wonder if this type of Kreisler bracelet could fit a specific Hamilton model? Anyway; as I don't like this sort of bracelet that much swapped it for a leather strap: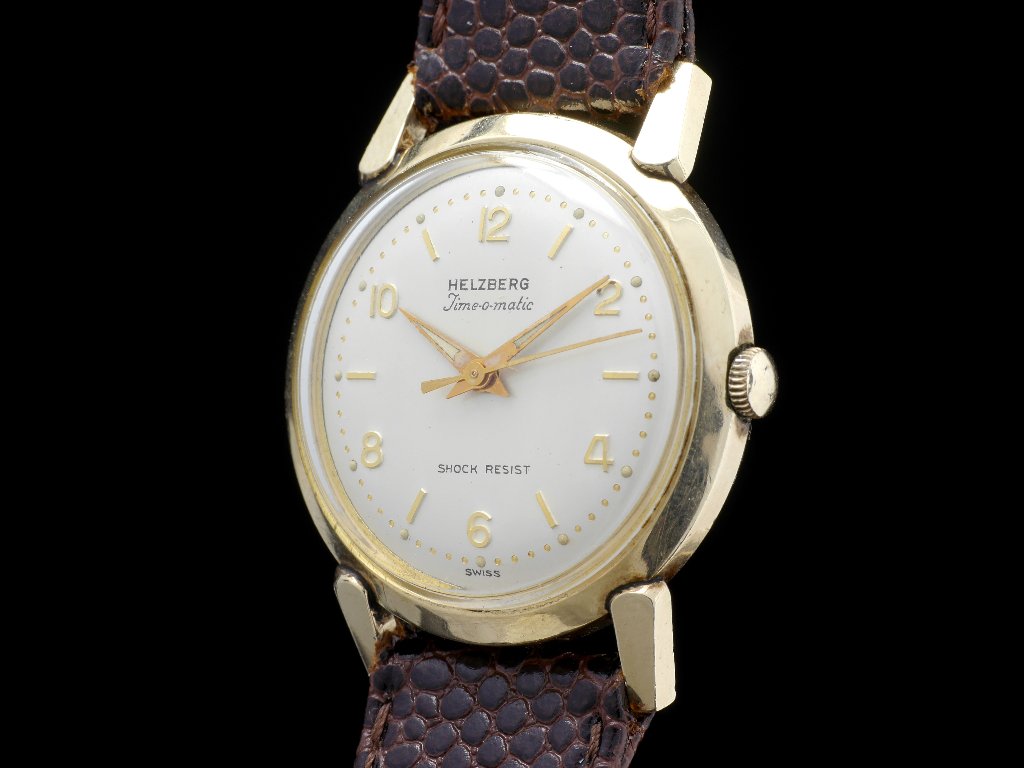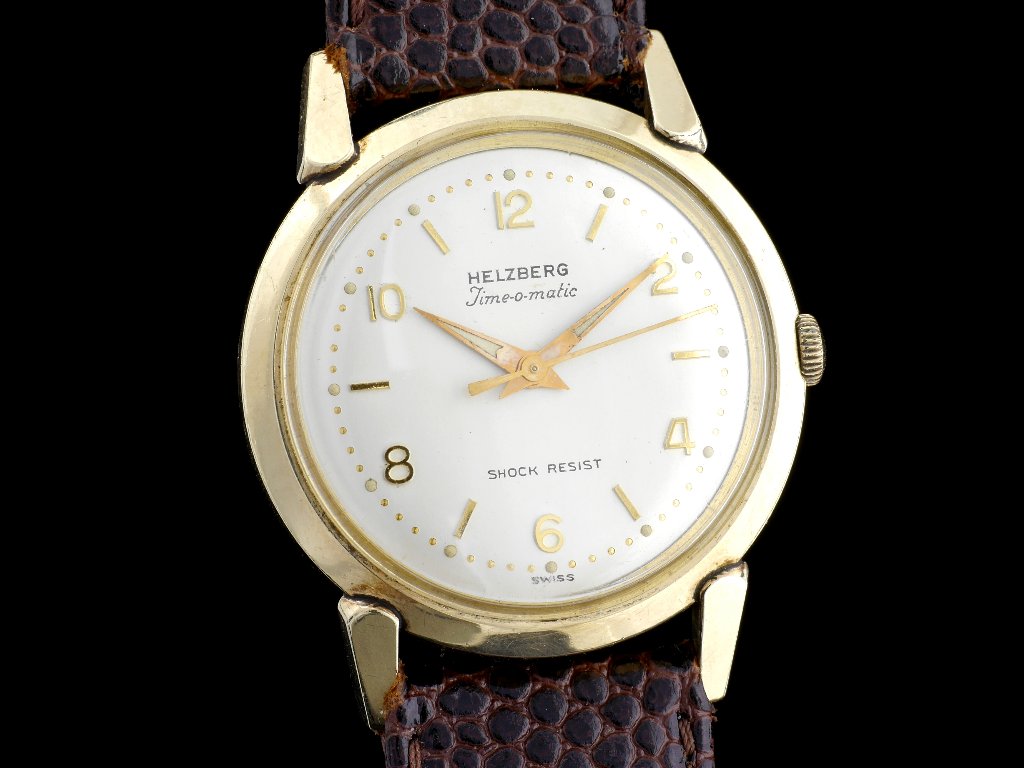 Beside "Helzberg" the dial of the watch is marked "Time-o-matic", "SHOCK RESIST" and "SWISS". The movement is marked 782-17 and is a calibre 1361 made by A. Schild.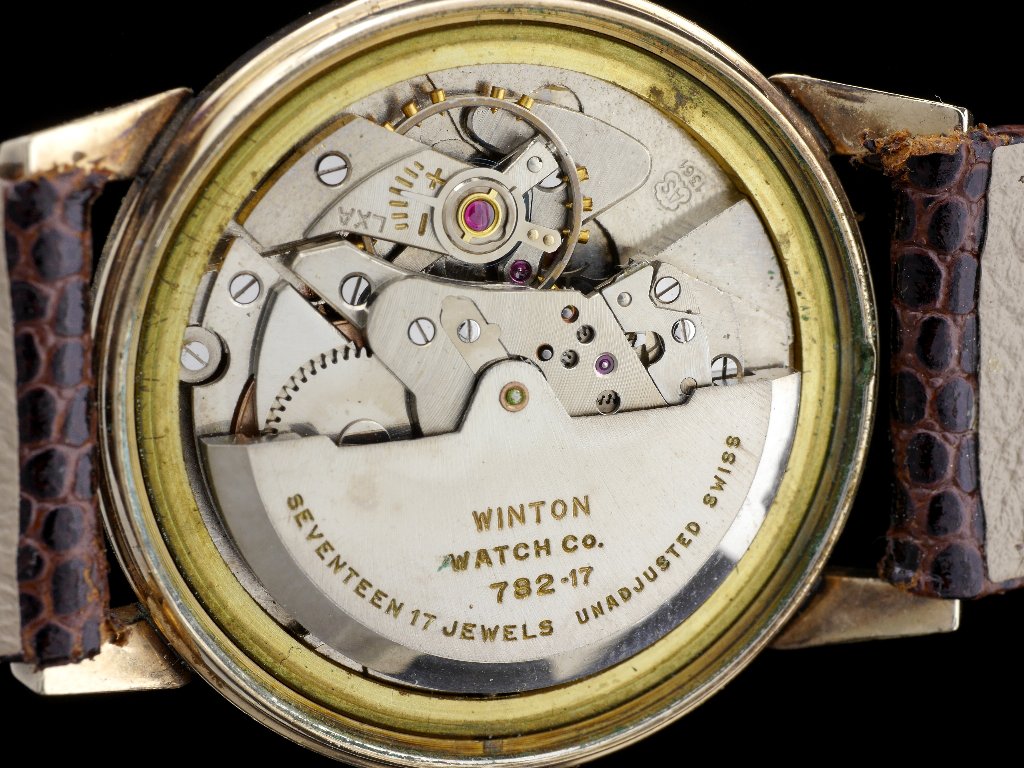 So, a quality movement you'll find also in Zodiacs, Rados, Walthams and even in the famous 1953 "Fifty Fathoms" by Blancpain.
The Case back is marked with an Anchor: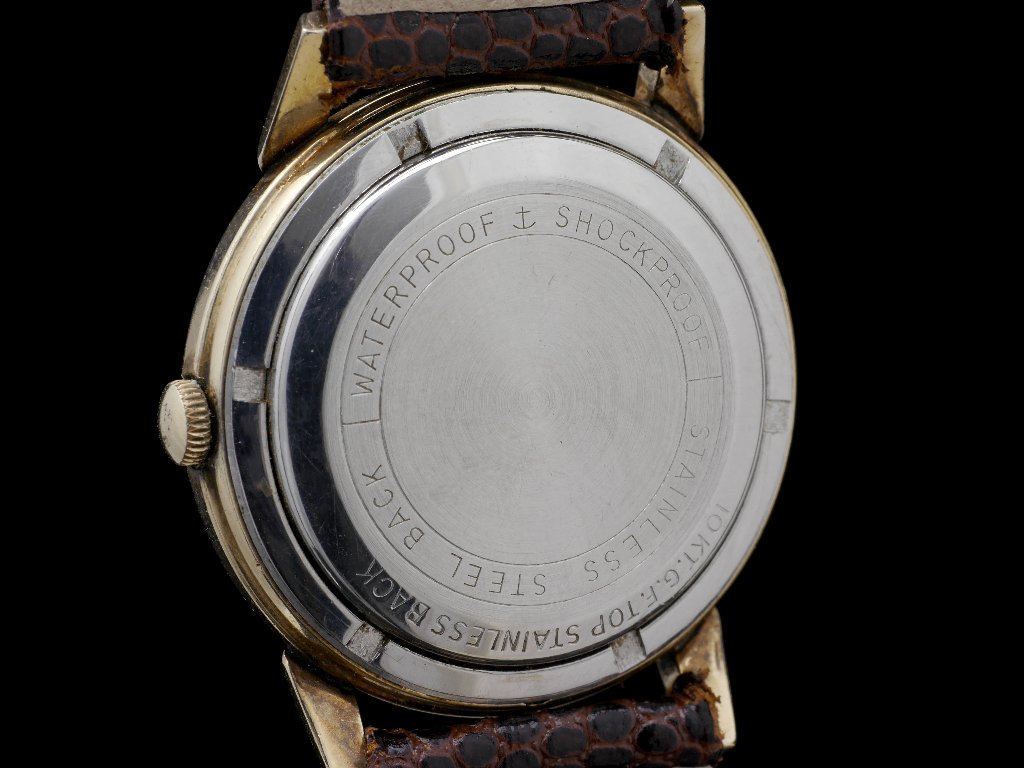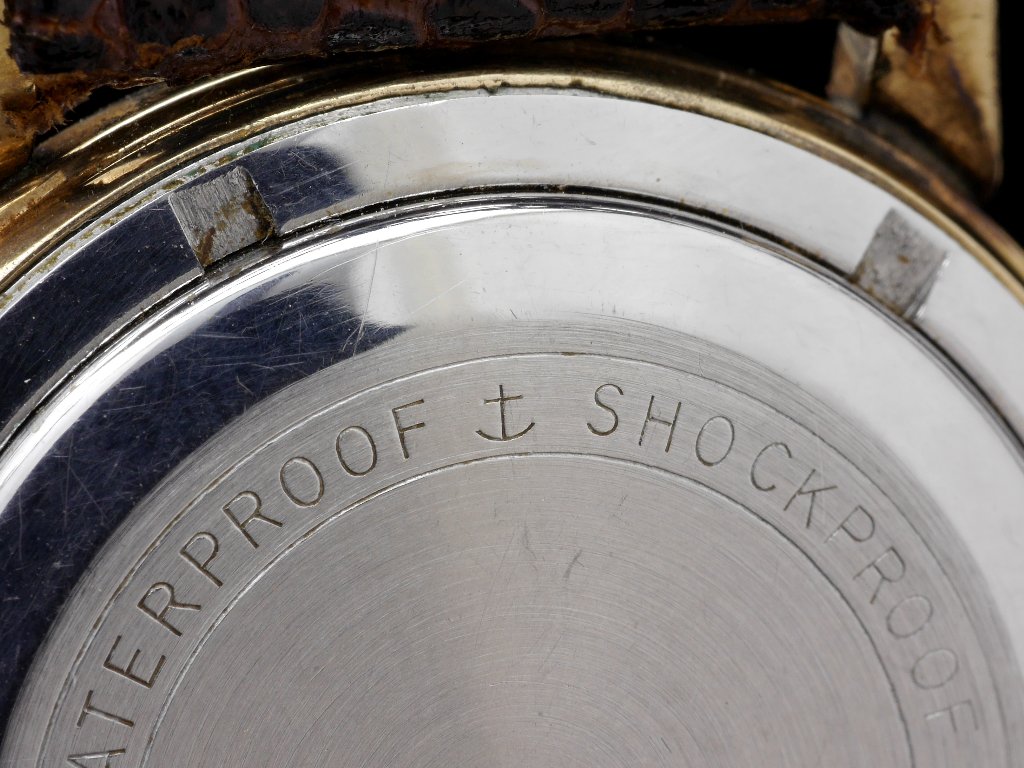 I don't know yet, which maker used an anchor – my two candidates so far would be Belove Watch Case Co, Inc. of NYC or the German company Rodi and Wienenberger – at least, these two companies had trademarks containing an anchor: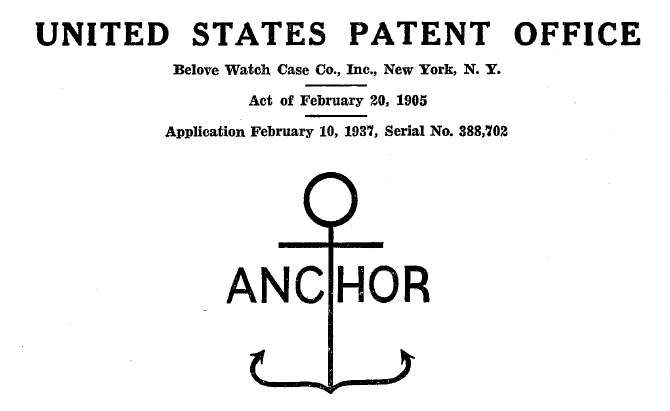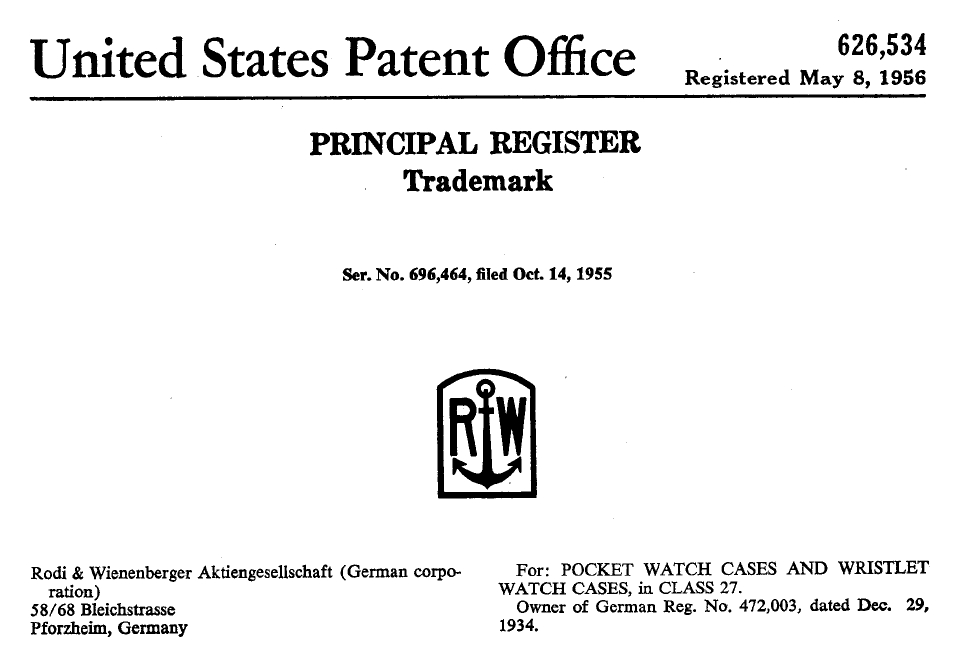 Unfortunately, the inside of the case back is completely blank – there are even no watch maker's marks. So it could very well be that I'm the first who opened the watch (what will be serviced soon). Although I quite sure the watch will not the box, I paired them anyway: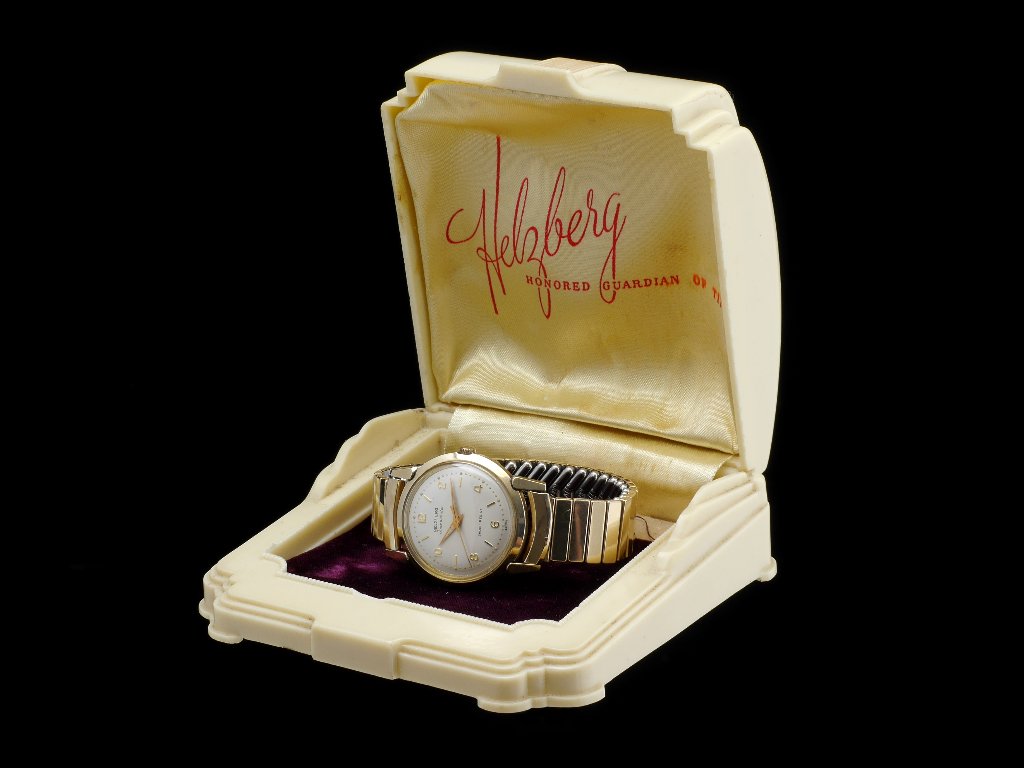 The movement inscription Winton Watch Co was the next puzzle as I did not know nothing about Winton. Well, some time ago about a parts lot containing i. a. a Winton marked rotor and a Winton crystal – but that it was. So, the next search – and here's what I found out about Winton:
The Winton Story
Winton is a trademark used in commerce since May 01, 1919. It was originally owned by "Hipp. Didisheim Company, Inc." in New York, NY. Didisheim also owned the trademark Nassau; the trademarks (and Didisheim's business) were transferred around 1940 (?) to a company "L. Adels Company", New York, NY. Said company was owned by Louis Adels. Adels owned i. a. the trademarks SLEDA (used since April 1925), ELBON (used since September 1927) and LACO (since 1922); LACO is the abbreviation of "
L
ouis
A
dels
CO
pany" and isn't to be mistaken with the German trademark "Laco" of
LA
ner &
CO
". Foundation of L. Adels Company probably was around 1922.
Louis Adels sold his watches under his several brands, mainly under "Winton", "Elbon", "Nassau" and "LACO", but also "Marc Nicolet" branded watch were sold by Adels/Winton Watch Co.
Adels had an ad in Swiss Watch Magazine "La Féderation Horlogère Suisse" of 13. June 1934: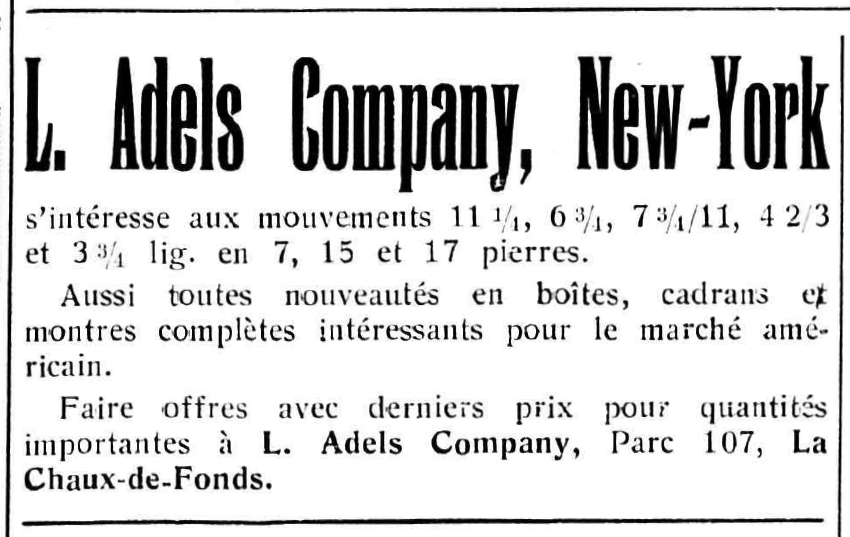 In this ad Adels was asking for movements or complete watches for the US market.
In fact, Winton watch movements were quality movements made by well-known Swiss makers of the Èbauches SA Group, namely by A.Schild, Aurore, ETA, Felsa, Fontainemelon and Unitas. Only the caliber 523 was made by a non-Swiss company, namely German company Durowe (Durowe 202) what's a little bit funny, because Durowe was owned by German company… Laco.
The movements are signed in several ways; what I saw so far is:
Winton Watch Co
LACO Watch Co
Elbon Watch Co
Nassau Watch Co
SLEDA Watch Co. (seems to be used only for low-quality movements with 1 to 6 jewels)
All have an import code LXA. By coincidence I found a checklist listing all Winton calibers and explaining, what the caliber really is (e.g. Winton 86 = Felsa 690). That is the "Marshall Handy Manual" of 1966:
https://watchguy.co.uk/technical/Marsha ... %20Manual/
You'll need part 2 (pages NC 138 to NC 141) for the checklist and part 5 (pages INF 2 to INF 5 and INF 9) for the explanation of maker codes and for the abbreviations used. From this list I extracted the automatic calibers: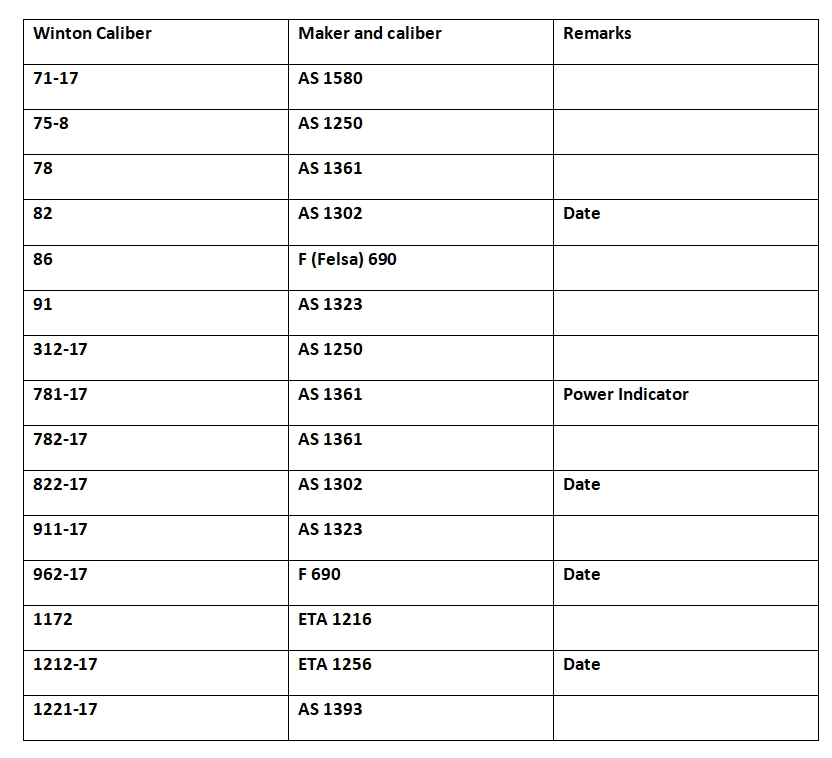 In the very few discussions on the net you will read about Adels that he "was an importer of Watches". Well, this is not quite exact. Yes, he imported the movements from Switzerland, but the watches were at least mostly "cased and timed in New York" (quote from a legend of an Elbon box). Adels used cases made by US Case Maker Companies, i.a. I.D. Watch Case Co. Inc., Commodore Watch Case Co., Major Watch Case International Corp. (all of New York City, NY), Lapwell Watch Case Corp., Greenvale, NY and by Pioneer Watch Case Co., Inc., Mount Vernon, N.Y. These are at least the Case makers I've seen so far present on cases of Winton watches (as well as on the other brands, like Nassau, Elbon, LACO).
So, Winton watches aren't much differing from other US brands: quality Swiss movements in a US watch case. Why don't they have the same reputation like – for example – a Hamilton Kinematic I ? The Kinematic I (and a number of Accumatics) has a grade 672, what's in fact an ETA 1256 - the same movement may be found in a comparable Winton. I don't know, maybe Adels simply had too many brands or it's just because Adels did not spend enough money for advertising his brand(s), maybe he outfitted too many private labels (like my Helzberg). Regarding advertising: there are very few advertisements – two of the very few I was able to find are shown here: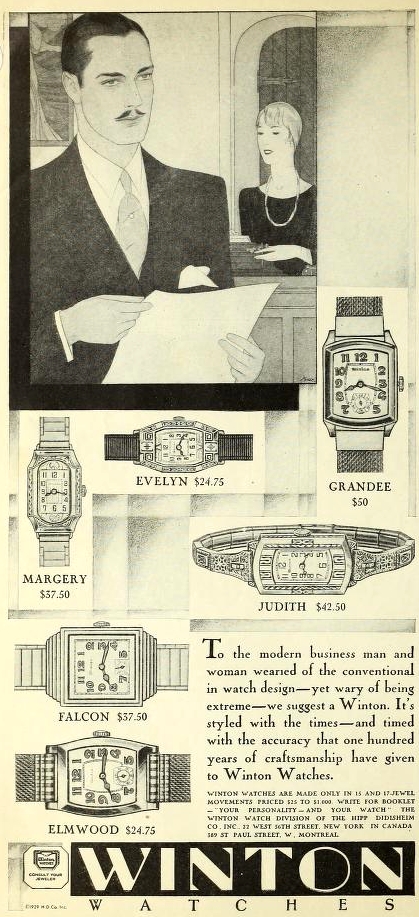 The first is from "Hearst's International – Cosmopolitan for October 1929", the other is from LIFE of 30. November 1953.
In any case: a "no-name" watch you can get for $25 can be as much as interesting as a top $$$ collector's dream – it might be a Cinderella. You just have to find the matching shoe.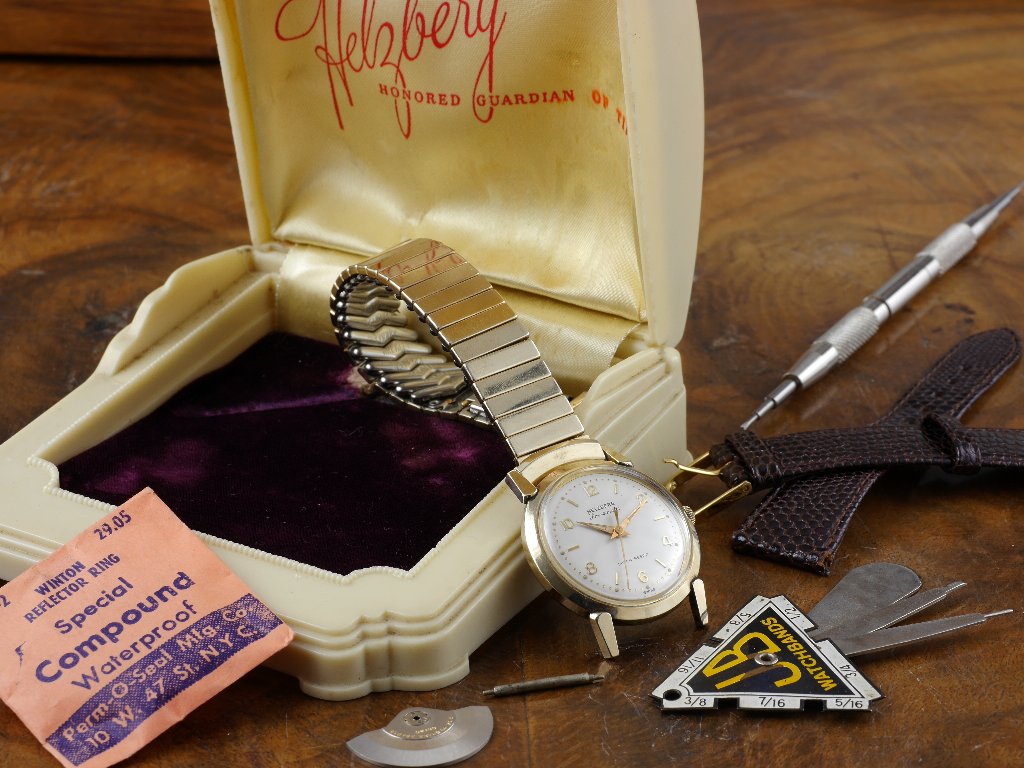 Still, the mystery of how the Helzberg box made it to Germany couldn't be solved. A good friend of mine (living in Chattanooga, TN) said that maybe a GI presented it to his German "Fräulein". Great idea! But: the northern part of Germany was under British control - no GIs here. But of course, one of the former owner of his house might have lived in the US Zone of Germany before he moved north.
Best regards
Martin
P.S: I would be glad, if others would show us their Helzbergs or Wintons….