---
Posts: 1574
Joined: Tue Sep 03, 2013 9:16 am
Location: Memphis, Tennessee
Day n Date 5008 for Thursday
signed bracelet (DREMA) but not original
Attachments

WRUW_090816_1.JPG (112.88 KiB) Viewed 1074 times

WRUW_090816_2.JPG (91.09 KiB) Viewed 1074 times
---
Quick shot of a lord Elgin award watch out at the diner.
Attachments

image.jpeg (1.68 MiB) Viewed 1066 times
---
BW Raymond railroad watch
---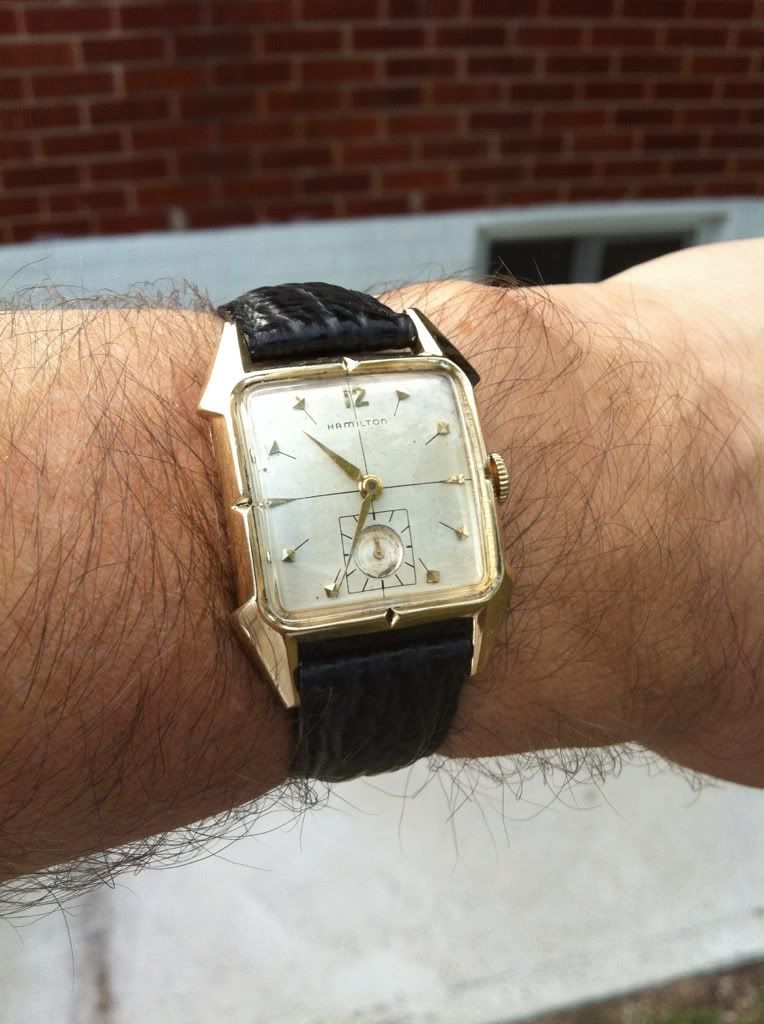 Moderator
---
Posts: 10
Joined: Wed Oct 14, 2015 4:10 am
I don't know what it is about this diver, but (for me) it looks better every time I wear it. I just hope the feeling doesn't rub off.
Attachments

20160909_101015-1.jpg (2.87 MiB) Viewed 1053 times
http://www.wilberforcewatches.com
A family run vintage watch shop situated in the sleepy hills of Somerset
Facebook
- facebook.com/wilberforcewatches
Instagram
- instagram.com/wilberforcewatches
Snapchat
- wilberwatches
---
Nice BW Raymond Grumpy.
Very nice 5008 Day & Date Todd, you have every 70's Hammy it seems!
c
For Friday: an M series Hamilton. Keeps great time.
Attachments

image.jpeg (88.71 KiB) Viewed 1040 times
---
Posts: 1574
Joined: Tue Sep 03, 2013 9:16 am
Location: Memphis, Tennessee
Thanks, Mark - really like the "M" models - classic styling
Cool diver watch Wilberforce, doubt you'll get tired of it

Chronograph G for Friday
aftermarket Kevlar strap
Attachments

WRUW_090916_1.JPG (183.32 KiB) Viewed 1036 times
---
1954 Lord Elgin Sabre. Found a better dial for it. Shinier and the silver on the hour markers isn't faded. Makes it pop more, at least to me
---
Todd, love the chronograph G, that's a sharp lookin ' watch
Grumpy, the Sabre is unique in my view, and you have a great example!
For Saturday, a Seiko with the Doral calfskin strap, 3/4.
Attachments

image.jpeg (126.45 KiB) Viewed 1002 times
---
Who is online
Users browsing this forum: No registered users and 1 guest