Posts: 3549
Joined: Thu Jun 02, 2011 7:13 pm
Location: The Villages, FL
ygf Merritt today.
Tom Diss
Mod Squad
---
without question, i am the worst hamilton collector present on this board. i now only have two. mark, i would understand if you wish to revoke my membership. so, i won't be posting pics of my "collection" much as it would bore the hell out of everyone else. maybe i'll start taking pics of them in odd places to add some interest. but, just for the sake of it, here's my watch today;
---
That Merritt looks great Tom. The enamel dial, especially the font, works well with the bezel design. Brad, you definitely are not the worst collector. The size of a collection does not matter. The quality of the pieces does. The care given to the collection by its holder matters, also. That is a beautiful silver Hamilton Grant and reflects how much you care about the watches you own.
---
Posts: 493
Joined: Thu Jun 02, 2011 2:52 pm
Romanesque- S for this Monday
Attachments

Romanesque-S.jpg (125.18 KiB) Viewed 2661 times

Romanesque S.jpg (102.15 KiB) Viewed 2661 times
---
The Romanesque S is a watch you don't see every day (or every month for that matter). Too bad that the camera cannot really show what the Romanesque dial looks like in real life. Nice choice for Monday's wear.
---
That Romanesque really rocks.

don't worry too much Brad. It's the appreciation of Hamilton that's the thing. Your collection will develop in the normal way.

cheers,
---
Great watches you guys, thanks for posting.

M
---
A 14K Cushion Form with dial #5 would be a great way to start off the week.
M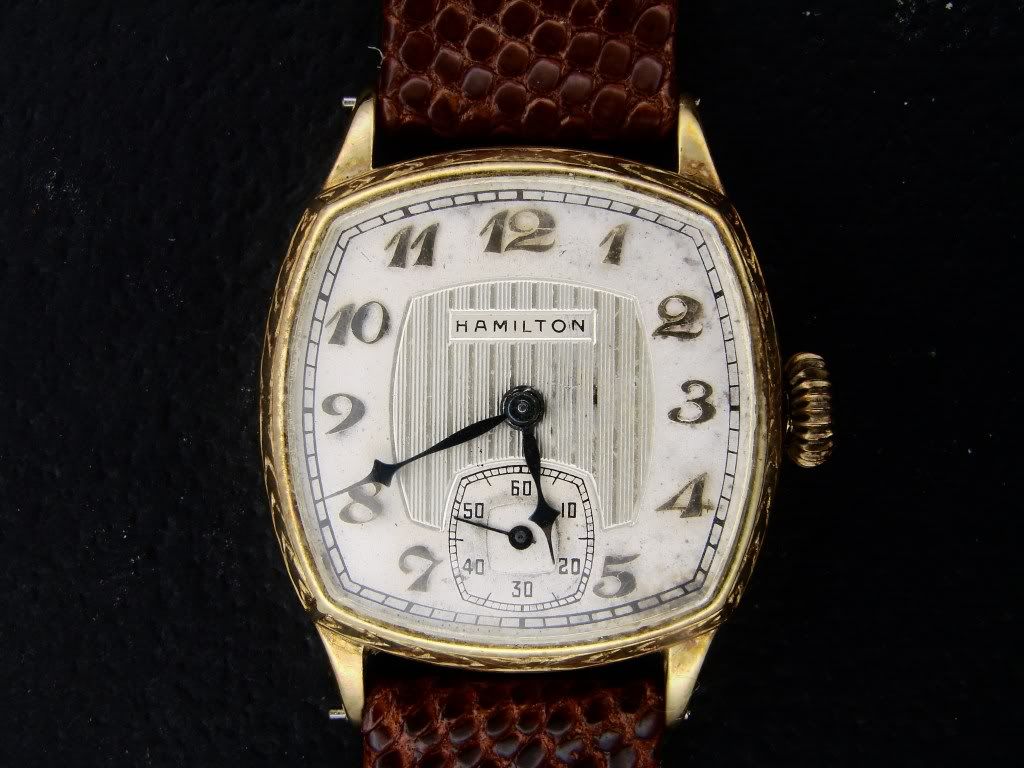 ---
C'mon Brad, you are perfect for the forum. We will enjoy you improving and expanding your collection. I assume that's a Sterling Grant? Even if a white gold filled one, it's also a great and collectable watch.

Mark
---
Who is online
Users browsing this forum: No registered users and 6 guests