@ watchdoc:
1. Bulova records - indeed, absence (or withholding) of company records (depending on the firm) does complicate the hobby when collectors/researchers attempt to analyze past practices of a brand. Makes the hobby a bit more frustrating or interesting depending on your viewpoint
2. RE: "cut and paste" something that is pure conjecture.
Well, the post I used for my 1st statement was
http://vintagewatchforums.com/viewtopic.php?f=31&t=555
by 441victor.
He goes on to say, "I have been compiling a list of Bulova movements from photos or examples I have seen that are marked USA."
Sounds like there's some evidence behind his statements & his list. He is basically doing what you were doing in making your assertions (Your prior statement: I've got over 650 Bulova watches, both Men's and Womens, and very few (if any) don't have the Bulova "Import code" on them) ... looking at "real world" examples and then inferring information from those observations.
Then, I pointed out actual Bulova literature scans found at the
http://www.vintagebulova.com/
site. Those scans are still around, a couple examples: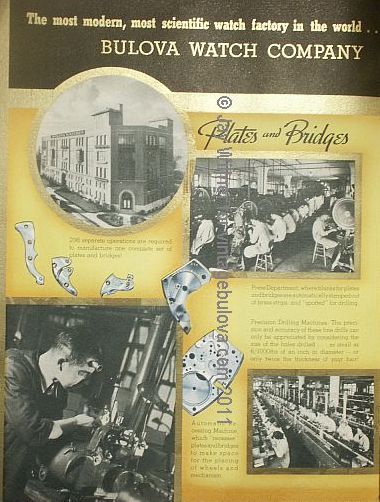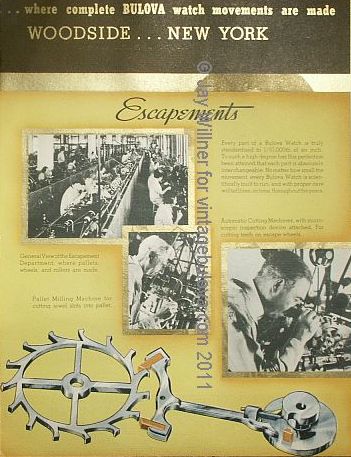 So again, your argument is with the people who have presented that data. Their data seems no less valid to me than what you have so far presented as "evidence" and seems to me to be based on more than "conjecture".
If you have contradictory evidence from trusted sources, then I just haven't seen you reveal them.
However, that all being said, I just don't want Bulova to be seen in the same light it was presented in a book from the 1980s,
REVOLUTION IN TIME, Clocks and the Making of the Modern World
by David S. Landes (a Harvard University professor no less) where he numbers Bulova as just 1 of the "American assemblers" in this following passage from a chapter discussing the problems of Waltham (both technical and financial) when it was transitioning from pocket-watch production to primarily wrist-watch production (his time-frame was primarily the late 1920s thru about early 1940s):
"Yet even the healthy American makers were losing ground, not only to the Swiss watch firms but to those
American assemblers
(
Bulova
, Benrus, Gruen, Longines-Wittnauer) who bought their movements in Switzerland and merely cased them in the United States."
How ever he got the impression that Bulova was just an "American assembler", I do believe he was incorrect in his characterization of Bulova - which mars an otherwise quite useful book.