Search found 146 matches
by Mugea

Thu Aug 10, 2017 7:03 am
Forum: Watch and Watch parts wanted
Replies: 4
Views: 108
Thanks!
Thread may be deleted - I received, what I was after and I'm happy!
by Mugea

Wed Aug 09, 2017 7:15 am
Forum: Watch and Watch parts wanted
Replies: 4
Views: 108
Want to buy a crystal for a Hamilton Fontainebleau (the first Fontainebleau - not the B model) - GS code would be CY1000. The person who's willing to sell it to me, should be also willing to ship it to Germany.

Best regards

Martin
by Mugea

Sun Jul 30, 2017 7:03 am
Forum: Photography
Replies: 10
Views: 723
Here is a K-475 I did. I think I got it right for a black dial. Taking off the crystal helps. Ha, ha, great! :lol: Yes, taking off the crystal helps a lot! But I prefer it to have the crystal in place – and that's the challenge. Here's a Zodiac Autographic I took photos of yesterday. The result ......
by Mugea

Thu Jul 20, 2017 6:43 am
Forum: American Watch Forum
Replies: 3
Views: 265
Hello "Dadistic", hello "Magpie", Thank you both for your kind words! It's fun to solve a puzzle and to write about it, but it's just GREAT when others enjoy it! News! The puzzle meanwhile is solved! My father talked with a daughter of the deceased former owners. She said, the box came from the esta...
by Mugea

Sun Jul 16, 2017 6:49 am
Forum: What are you wearing today?
Topic: WRUW 7/9 - 7/15
Replies: 36
Views: 951
Today, a ZentRa Savoy aka Hamilton Fontainebleau B. See the whole story here:
viewtopic.php?f=6&t=10832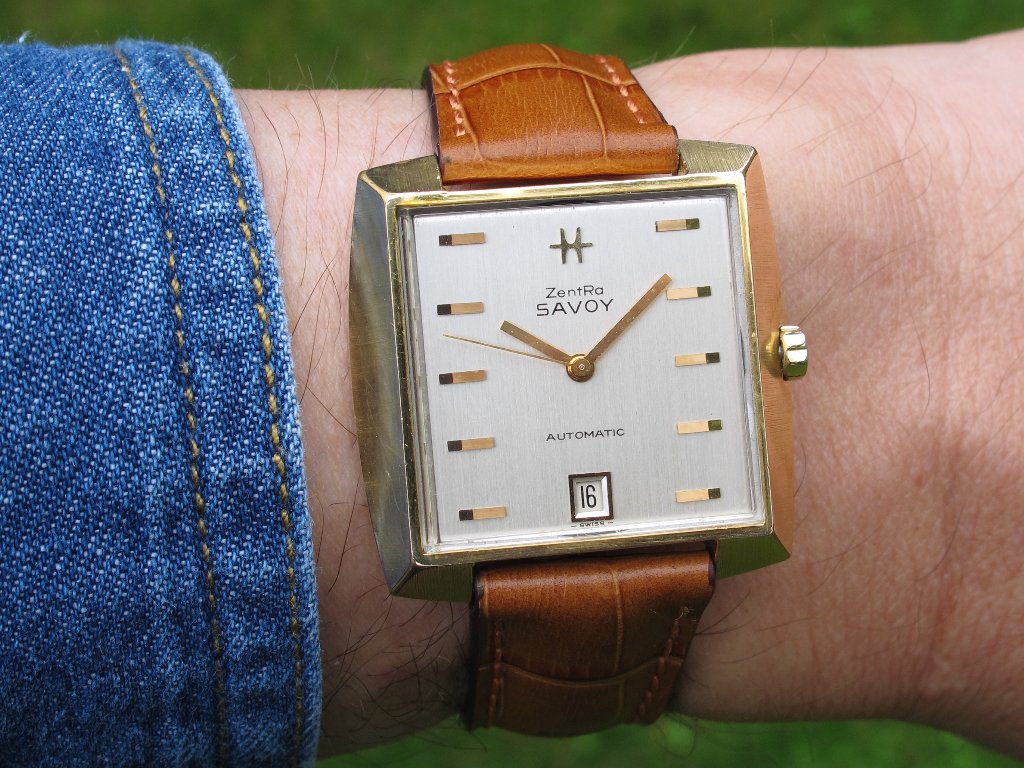 Regards
Martin
by Mugea

Sun Jul 09, 2017 3:25 am
Forum: Hamilton Watch Forum
Topic: ZentRa Savoy by Hamilton
Replies: 13
Views: 1210
That's a very classy and clean looking watch! My 61008-4 runs a 61 caliber movement. Your research into ZentRa Savoy by Hamilton is revealing an entire collection of models. Keep up the good work looking into this German-American-Swiss horological partnership. Oh, I totally forgot to ad yours (and ...
by Mugea

Sun Jul 09, 2017 2:49 am
Forum: American Watch Forum
Replies: 3
Views: 265
The Helzberg box [/u] Some months ago, my 76 years old father moved to my neighbourhood. I helped him a little bit when has renovating his new home. One task was to get rid off all the belongings of the former owners (some tons of old stuff to be brought to the junk yard). Before we removed all the...